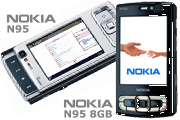 Firmware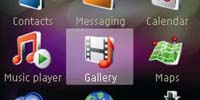 Jedes Nokia-Telefon arbeitet mit einem Betriebssystem und zugehörigen Komponenten, die natürlich auch Software-Fehler enthalten können. Aus diesem Grunde ist es möglich, dass Nokia hin und wieder eine neue Firmware-Version herausbringt, um einige bekannte Fehler zu tilgen.
Aktuelle Firmware-Version
Modell:
Nokia N95-2 (N95 8GB)
Modell-Typ:
RM-320
Release-Datum:
21. Dezember 2009
Version:
35.0.1

Vorherige Versionen

Version:
31.0.015 (-)
Version:
30.0.018 (28. Juli 2008)
Version:
20.0.016 (01. April 2008)
Version:
15.0.015
Version:
11.0.026
Firmware-Update
Das Nokia N95 bietet die Möglickeit, ein Update mittels USB-Datenkabel und der Nokia Software-Updater durchzuführen.
Hier findet ihr den offiziellen Link zu Nokias Update-Lösung: Nokia Software Update
Firmware-Changelog
---
Changes/improvements made from MCU SW v 20.0.016 to v 30.0.018
New features:
Maps 2.0 (e.g. Predestrian navigation, Traffic info, Multimedia ciry guides, stallite imagery)
Full N-Gage
Nokia Search 4.0 with Google plug-in
Share on Ovi (Chare Onlina 3.0)
Enabler for "Comes with Music"
Mosh & Ovi Bookmarks added to Browser
Changes/Improvements
Download! application updated (v3.1.50)
New baseline for startup settings
New baseline/upgrade to Music Player
Baseline update for Flashlite 3 (improved viweing of sites like YouTube)
Current consumption improbements (for e.g. WLAN scanning)
New baseline for VoIP (with significant error corrections)
General error corrections
---
Changes/improvements made from MCU SW 15.0.015 to version 20.0.016:
New features
Automatic Screen Rotation (ASR)
Support for new combo memory added
Browser
Improvement when creating a voice call from WAP page.
Improvements to embedded video functionality in browser.
Sending email via browser flash plug-in improvements.
Messaging
Mail in HTML format handling from Gmail IMAP server improved.
Connectivity
WLAN connection stability improvements
BT connection stability improvements with certain BT headsets
USB connection stability improvements
Telephony
Voice call handling improvements after certain type USSD message receiving.
Diverses
Stability improvements to gallery for case when there's lot of content in Gallery
Improvements to switch application
Voicemail icon handling improvements
Localization corrections
Deletion of all contacts now possible even more than 6000 contacts in phonebook
Start-up functionality improvements
---
Changes/improvements made from MCU SW 11.0.026 to version 15.0.015:
New Features:
Browser:
General stability improvements for browser
Messaging:
Mailbox wizard correction
Improvements to email viewer
Connectivity:
Bluetooth remote volume control improvements
W-Lan connectivity improvements when power save enabled
Improvements to W-Lan connectivity
W-Lan stability improvements
Telephony:
Others:
Improvements to maps startup and closing
Music player maturity improved
Headset stability improvements
Correction to Chinese input in search application
Improvements to gallery
Correction to video center thumbnail creation
Improvements to application installer
Improvements to find function in music library
Night mode improvements in Camera
Correction to Sim initalization
Improvements to switch application
Performance improvements to eMMC access
Startup settings data updated
Default input method changed to BPMF when using Chinese language
Improvements to call history in call logs
Localization corrections