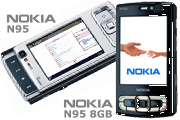 Firmware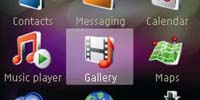 Jedes Nokia-Telefon arbeitet mit einem Betriebssystem und zugehörigen Komponenten, die natürlich auch Software-Fehler enthalten können. Aus diesem Grunde ist es möglich, dass Nokia hin und wieder eine neue Firmware-Version herausbringt, um einige bekannte Fehler zu tilgen.
Aktuelle Firmware-Version
Modell:
Nokia N95-1
Modell-Typ:
RM-159
Release-Datum:
21. Dezember 2009
Version:
35.0.2

Vorherige Versionen

Version:
31.0.014 (06. November 2008)
Version:
30.0.015 (15. Juli 2008)
Version:
21.0.016 (14. Februar 2008)
Version:
20.0.015 (26. November 2007)
Version:
12.0.013 (19. Juni 2007)
Version:
11.0.026 (17. Mai 2007)
Firmware-Update
Das Nokia N95 bietet die Möglickeit, ein Update mittels USB-Datenkabel und der Nokia Software-Updater am heimischen Computer durchzuführen.
Hier findet ihr den offiziellen Link zu Nokias Update-Lösung: Nokia Software Update
Firmware-Changelog
---
Changes/improvements made from MCU SW v 21.0.016 to v 30.0.015
New features
Maps 2.0 (e.g. Pedestrian navigation, Traffic info, Multimedia city guides, satellite imagery) 1)
Full N-Gage with preinstalled Try&Buy demo games (FIFA08, Asphalt, Snakes Subsonic) 2)
Nokia Search 4.0 with Google plug-in
Share on Ovi (Share Online 3.0)
Automatic Screen Rotation
Video Center 3.0 (e.g. scheduled downloads, IPTV ready)
Mosh & Ovi Bookmarks added to Browser
Nseries black theme
Buceta increased
1) Preloaded Maps data on memory card should be updated to support newMaps 2.0 features like Pedestrian Navigation & Traffic info
2) Try&Buy demo game titles may vary depending on the market
Changes/improvements
Download! application updated (v 3.1.50)
New baseline for Startup settings
New baseline/upgrade to Music Player
Baseline update for Flashlite3 (improved viewing of sites like YouTube)
Current consumption improvements (for e.g. WLAN scanning)
New baseline for VoIP (with significant error corrections)
General error corrections
---
Changes/improvements made from MCU SW v 20.0.015 to v 21.0.016
New features:
Flash Lite 3 support added.
Widget (Web runtime) support added.
Default year changed to 2008.
Improvements
General stability improvements.
Pre-defined access point kept after switching to different type SIM card.
Localization improvements.
Standby time improvements.
Improvements to BT headset interoperability.
Improvement to Calendar data restoring.
Switch from landscape to portrait mode & screen rotations improvements.
Browser
Improvement to long text writing to web page text boxes.
Browsing from WLAN wizard improvement.
Media Player
Localizations improvements in Music player.
Windows Media Player recognizes device as Nokia N95.
Gallery
Image rotation improvement in album view.
Gallery & Slideshow performance improvements.
Messaging
Improvement to SMS reception.
Java
Midlet installation improvement.
Improvement to Java application start.
Java midlet certificate checking improvement.
Navigation
General improvements to Maps application.
Localization correction to Search in Maps application.
Improvement to Navigate To –function when started from search application.
SIM
Contact names with accents and more than 11 characters can be copied to SIM card.
---
Changes/improvements made from MCU SW v12.0.013 to v20.0.015:
New Features
Maps application version updated (Nokia Maps 1.0)
GetNGI (Games)
Music shop
OTA WMDRM (Windows Media Digital Rights Management)
- Active standby search
Video ringing tone
ODP (On Demand Paging)
DVFS (Dynamic Voltage and Frequency Scaling)
Switch application version updated
Changes and improvements
General stability improved.
Several localization errors corrected.
Various application help files updated.
Default language not always read from SIM correctly.
Volume side keys don't work in all situations.
WLAN wizard can't always connect to secure WLAN network.
Cannot edit or delete access points if lot of WLAN access points created.
Midlet icon may be shown twice after installation in some cases.
Midlet suite upgrade doesn't work correctly if amount of midlets in suite has changed.
Streaming aspect ratio is not correct if QTSS server doesn't provide Framesize tag in SDP.
Key presses are sometimes missed.
Connection dropped easily in crowded WLAN environment.
Cannot pre-configure push email application in variant.
OTA configuration containing an unknown parameter is ignored by device.
Call divert icon disappear after power cycle.
UPnP interoperability improved.
Browser
Dropdown list not opened if size is defined.
Large images in web page are not rendered correctly after scrolling.
Flashlite memory management improved.
Cannot access to SIM phonebook if device language is set to Chinese.
Cannot add Chinese characters to input/search box in browser.
Real One Player may show invalid default name for some downloaded videos.
RSS-links does not work anymore if article was downloaded from web feeds.
Improved handling of large web pages.
Media Player
Streaming doesn't always continue after long pause.
Some m4a files cause music library to crash.
Album art not shown for WMA files if picture size is over 64 KB.
Gallery
Image editor closes on attempting to edit and send an image a second time.
Cannot upload images to online share if lots of images stored in device.
Image viewer crash when opening malformed JPEG file.
Thumbnail creation speed of big video files improved.
Messaging
Cannot have non-ascii characters in mailbox name.
Reduced character coding -option in text message settings doesn't work as expected.
MMS presentation not saved to draft folder is exiting application with end key.
IM client allows empty alias.
VoIP
Device may reset if moving out of WLAN coverage during VOIP call.
Cannot register to VOIP if found WLAN connection is too weak.
VOIP doesn't re-register if going momentarily our of WLAN coverage.
Automatic connection to SIP server fails often if started device in offline mode.
VoIP call can't be established when multiple profiles with same realm.
Camera
Video recording with front camera may freeze the device.
Telephony
Device may restart if receiving voice call during ongoing video call.
Unable to create call after successful balance query.
Streaming
Maximum limit for streaming bandwidth for UMTS and WLAN increased from 999kb.
Voice Mail
Call divert indicator disappear in device is restarted.
Navigation
Improvement to Location API performance if lots of landmarks in device.
Bugs/Complaints
Tracking feature removed from Nokia Maps application.
Some people have reported issues with the Search application upon removing their memory card.
Some people have reported issues with not being able to connect to their PC via USB cable after update.
Call log bug STILL alive (where the call log represents every call as a mobile call).
Some people are complaining that picture quality has been degraded.
---
Changes/improvements made from MCU SW v11.0.026 to v12.0.013:
New features
General improvements/changes
Property watcher added to the screen saver
Improvements to WLAN sniffer
WLAN stability improvements
Screen saver timeout default value stays correct after MMC backup
Stability improvements to memory card formatting
Image editor stability improvements
Lifeblog input improvements
Colors of Java Midlet icons no longer scaled down
Localization corrections
Voice mail number now correctly read from SIM card
Download Manager stability improvements
Improvements to animations in Midlets
Multimedia menu stability improvements
BT stability improvements
Correction to WLAN interoperability problem with Netgear router
Correction for High Capacity memory cards
Correction to backlight blinking
Barcode reader no longer prevents deep sleep
Improvements to USB plugin handling
Better Out of Memory handling
Performance improvements
Improvements to RCPI based roaming(WLAN)
Improvements to cached PMKSA authentication with WPA2-PSK(WLAN)
Correction to secondary SSID handling(WLAN)
Improvements to registration in offline mode(WLAN)
Stability improvements to Quick Office
Correction to WLAN setup wizard
Multimedia Menu shown correctly also when Chinese image as a background image
Calendar stability improvements
Browser
Stability improvements to text box input in browser
HSDPA throughput improvements
Improvements to file upload
General stability improvements to Browser
Animated images shown correctly in Web pages
Media Player
Stability improvements for incoming call handling during music playback
Volume and time bar positions adjusted
Music store closed properly after use
Memory handling improvements in Music Player
Audio Handling improvements
Improvements to Find in music player
Improvements to reconnection to live stream
APN query shown correctly in Music Shop
Gallery
JPEG scaling no longer corrupts exif info
Image print stability improvements
Stability improvements in Gallery
Performance improvements to slide show
Improvements to UPnP picture copy from Media Server
UPnP stability improvements
Improvements to image rendering
Correct LSK shown after a call
Zoom&Pan hidden when TV-out is connected
RSK & LSK shown correctly after editing play list
Correction to image rendering after screen saver is activated
Music selection dialog shown also in landscape mode in slideshow settings
Messaging
Stability improvements in messaging application
Improvements to email handling
Improvements to email sync
Correction to MMS sending during VT call
VOIP
Improvements to SIP settings
Callback request call is made secured like the first call
Corrections to VoIP emergency call handling
Camera
Changing camera scene mode no longer changes Sharpness value
Phone goes now correctly to deep sleep after taking images
Telephony
CPHS corrections
Call forward icon now shown correctly also after reboot
MT video call shown correctly on UI
Navigation
Lots of maps improvements
Position Method now selected correctly
WLAN APN removed from AGPS positioning server settings
---
Changes/improvements made from MCU SW v10.0.018 to v11.0.026:
Telephony
Improvements to packet data establishment after changing to roaming network
Improvements to number grouping
Improvements to missing calls and new message notifications
Audio routing improvements
Say callers name volume increased to match ringing tone volume
Call reliability improvements
SIM / U-SAT
SIM certificates supported
SIM card registration improvements
Camera
Video recording starts faster
Video stabilization improvements
Exposure improved
Lens shading improved
Video sharpness and noise improved
Capture tone synchronized with capture moment
Browser
Improvements in images visibility in browser
General stability improvements for browser
Refreshing web page functionality improvements
ROP memory handling improvements
Browser out of memory improvements
Messaging
Out of memory improvements
VOIP
Improvements to automatic redial
WLAN stability improvements
Product name included for USB mass storage mode
Improvements to SD backup
Stability improvements to BT connectivity
Localization improvements
Screen saver default value changed from 5min to 1min
Chinese language typing improvements
Startup settings updated
USB stability improvements
General stability improvements
Multimedia menu stability improvements
Multimedia menu startup time improved
Maps stability improvements
Barcode reader icon changed